Shawnee Mission West High School
Class of 1966
Welcome to the SM West Class of 1966 Website

Classmate of the Week, Terry Colbert
"So what are we doing lately? Sharon and i will be married 50 years on April 29th. We are going to celebrate by going to the Tulip festival in Wamego, KS on the 22nd and 23rd and then to Branson. Sharon turned down flights to Europe, Bahamas and Hawaii. She says she is done with air travel and tired of being hazed up by the TSA every time we fly.
I'm still working if you can call it that. I've been doing what I do for over fifty years so it is still fun, well most of the time. I got caught up in the fervor of the NCAA KU Championship and bought a bunch of hats to send all over the country to my KU buddies. I guess I was truly caught up in the April version of "March Madness".
We had a blast going to the parade Sunday and due to Ron's wife's connections, we got behind the scenes. So here are a few pictures of our fun day in Lawrence. We are fortunate to still be able to enjoy this after all of these years.
Whether or not you are a KU Jayhawker, I want to wish all of you Vikings and your families a great year! I've sure enjoyed seeing all of the folks that I've seen from our class the past several years and catching up on everything."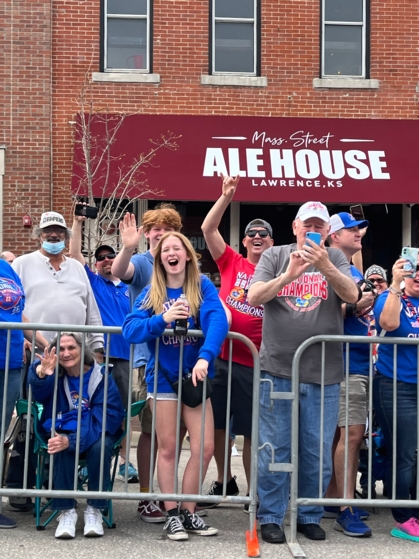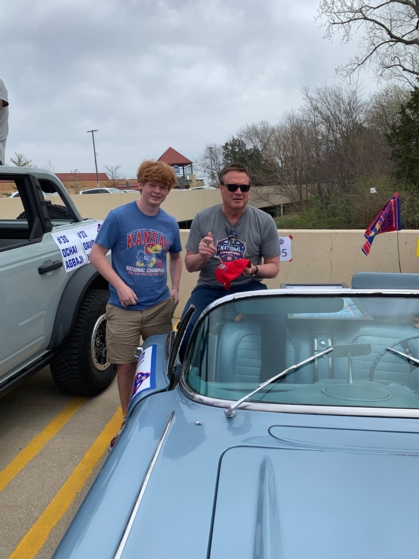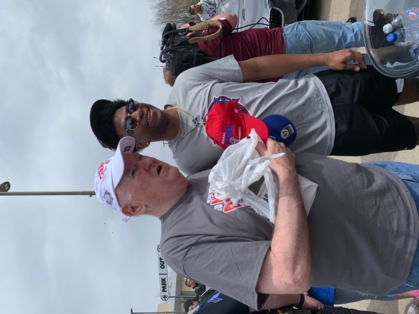 The trophy.