Shawnee Mission West High School
Class of 1966
Welcome to the SM West Class of 1966 Website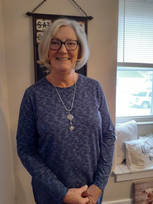 Joy Blase (Hoffman), "What do you spend your time doing these days?"
My husband, Ron, and I live a pretty quiet life here at the lake, but we have frequent house guests, and love having company. Since the pandemic, we host mostly family members and close friends who have been vaccinated. I spend a lot of time making beds and cleaning bathrooms! Ron spends a lot of time restocking the beverage cooler and keeping the boat clean. Because we live in the country on a gravel road right across from the boat docks, I also spend a lot of time cleaning dust off the porches and patio, along with killing spiders. Don't judge me! I know spiders eat bugs and they are part of God's creation, but it's my porch and I don't want to share with the spiders - they cause my granddaughters to scream.
We come to the KC Metro area often for dental appointments and family celebrations. Our second oldest granddaughter is a freshman at Coe College in Cedar Rapids, Iowa, playing on the women's soccer team and we visited there earlier this month and watched her play in two soccer matches. We both read for pleasure and average at least a couple books a week.
We've deliberately not committed to committees or clubs so that we are available for spontaneous activities. This morning we cooked dinner for a neighbor whose wife is in hospital. This afternoon we are going to help our daughter install a new window in her garage (we hope).
Best regards,
Joy