Shawnee Mission West High School
Class of 1966
ANNOUNCEMENTS
Anyone in the Chicago area want to get together to cheer on the Chiefs on Sept. 28 when they play the Bears at Arrowhead? Thinking somewhere with food and libations….maybe near Woodfield Mall?

Julee Cornelius Manahan
Welcome to the SM West Class of 1966 Website


SMW 66ers Hold Micro MichiganReunion By Bill Leeder and Lee McClenaghan*
As winter was ending earlier this year in San Diego, Lee noticed he had airline miles to use. So of course, his next thought was, "Wonder what Bill Leeder is doing?" Lee started Googling and almost instantly found Bill Leeder but, it was not Bill the 66er, it was his son. Bill the Il. An easy find on the web because Bill Il is an attorney. It was not too much longer and, after an exchange of "this is not a scam" emails from Lee, phone numbers were exchanged, and a call was made.
Ninety 90 minutes later Lee's airline miles were used to get to Grand Rapids, Michigan. The MMR was set for the first weekend in May. Lee was landing on Thursday, May 4 and going back home on Sunday May 7. We talked about what to do and deciding on a plan. We settled on a Saturday Night Cookout for Lee to meet all the Leeders. For all the other time we were highly motivated to play it by ear and let 57-year-old memories lead the way. May 4th was here before they knew it. After driving by arriving passengers and missing Lee once, Bill and his wife, Sharon, met Lee on the second loop and the 2023 MMR was underway! We could not have had a better time. We may even do it again next year! We recalled the winter day we went sledding. Our sleds did not fit in my VW Beetle convertible, so we drove around with the top down! We talked A LOT, showing kindness to each other when one of remembered something the other didn't. Once the memories started flowing, they kept going and going and going. Who else stayed up all night after graduation in Lee's back yard? Doug Jackson was there. But who else? The talk was how we can get to the stars.
We had a great time with a tour of Grand Rapids. Historically, once known as America's Furniture Capital, we drove to the area of the original factories, some of which predate the Civil War. Our current major business activities are Gordon Food Service, Away, Steelcase and Herman Miller. All 4 were privately owned BILLION-dollar companies. Today you can buy Steelcase stock. To illustrate the strength of west Michigan's Dutch Community, Bill told Lee a story of seeing a bumper sticker he saw when his family moved here in 1976. It said, "You're not much if you're not DUTCH!" Funny enough Bill said, until after a year or two he realized it wasn't a joke, but a statement of fact! On the way home, to prepare for the Leeder invasion, we drove by the graves of President Ford and First Lady Betty Ford. Born in Omaha, President Ford did grow up here and is GR's most famous son. We get home. Start the grill and await the 6 other Michigan Leeders. Our sons, Bill and Chris, their wives Kate and Katie. Chris says he married Katie so that as I got older, I would only need to remember one name. Our Grandchildren (Christopher's kids) are Abby, 14 going on 29, starting her first year as a freshman Cheerleader and Hudson 11, ready for 2 new experiences as he enters 6th grade, the trombone and football. Football = Cheerleaders. To all our cheerleaders, Iam sorry, but Lee and I did re-live the very end of our game versus SM North. The Cheerleaders were spelling out their loudest cheering of "S U C E S S that's the way we spell SUCCESS". I think we lost 34- 6. It's the thought that counts. Right?
The family invasion was great. As introductions were made, Lee was showing us his family from the gallery on his phone. Lee's grandson, Liam, just graduated 8th grade, but looks like he could be graduating college.
As our great meal was ending Lee and I realized he was going home the next day. For some reason or other we started talking about our classmates and teachers who have passed away. Bummer, right? No it wasn't. Instead, it enriched the time Lee and I had together this weekend, remembering all of them. Gone but not forgotten.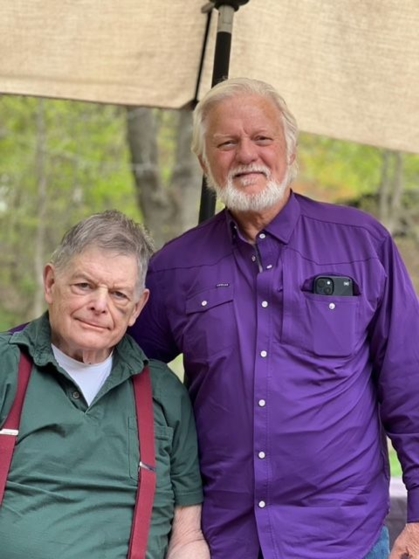 Bill and Lee
*This is not our first story written together. Sports Illustrated named Rick Mount,
a kid from Indiana, the Best High School Basketball player in the country. SI printed our "Lettert to the Editor" documenting why they were wrong and should have picked Doug Jackson
From the February 28, 1966 issue of Sports illustrated:
19th HOLE THE READERS TAKE OVER
Sirs:
We believe that our Doug Jackson is more deserving of the lavish praise that SI heaped upon Rick Mount. Besides being a member of the National Honor Society, Doug is now only 28 points from breaking the Sunflower League scoring record (set by Lucius Allen, Lew Alcindor's little buddy at UCLA). If he maintains his present 27-points-per-game average, tops in the state of Kansas, he will certainly succeed.
Bill Leeder
Lee McClenaghan
Overland Park, Kansas