Shawnee Mission West High School
Class of 1966
Welcome to the Shawnee Mission West Class of 1966 Website

The SM West Epic Vol IV No 5 October 8, 1965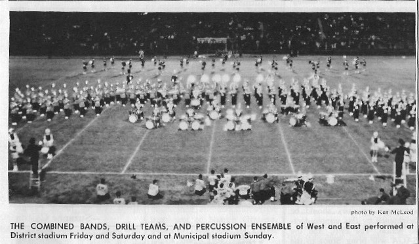 Band's Performances Make Full Schedule: "West has a very busy band this year," Mr. David Circle, band instructor, stated. Tomorrow the band will participate in the Wichita Marching contest. Next Saturday the drill team and band will play for the American Royal Parade. The 80-member band and 32-member drill team had a crowded schedule last weekend. The combined groups performed at the SM North game Friday night, the Overland Park Parade Saturday afternoon, and the East-Washington that night. Sunday afternoon the combined bands of East and West performed during halftime of the KC Chiefs' game. This performance was televised nation-wide in color. Seven invitations to perform at various events have been turned down so far this year… The only evaluation Mr. Circle would give to the band is, "They have lots to learn, but they are working well and are improving." Band Schedule Oct. 9 – Wichita Marching Contest Oct. 16 – American Royal Parade Oct. 16 – Washington Oct. 22 – Miss America Parade Oct. 23 – Raytown South game Oct. 29 – Topeka West game Nov. 3 – SM East game Nov. 13 – William Jewell
Vikettes March For KC Chiefs With West Band: The SM West Vikettes, along with East, marched at the Kansas City Chiefs' opener, last Sunday. Routines to "Pass Me By" and a drum ensemble were televised nation-wide in color on NBC along with the game. For preparation of this performance, the Vikettes practiced every morning before school at 7 o'clock and a few times with East, during 5th hour and lunch periods. Since those who live in the Kansas City area were unable to see the half time performanceunless they attended the game, the routine was performed at the West-North and East-Washington games. The Vikettes will go to Wichita tomorrow to perform at the Kansas Band clinic.
Russell No. 2 Spot To Cassing, Millin: Jim Cassing and Steve Millin captured the individual second place trophy at the Russell, Kansas tournament last Friday and Saturday. Beaten only by SM East in the final round, Cassing and millin nosed out 78 other teams from 28 high schools for the second place honor, with a preliminary round record of six wins and no losses. Both the other West teams, including Jerry Jones and Mike Penzner, Kris Krogstrand, and Clyde Stutzman, had four wins and two losses each in preliminary rounds. Commented Jerry, "This is the first time West has ever gotten to the final rounds after three years of debating at Russell."…
Viking Emblem Still Gets Abuse: The emblem on the bridge is still the recipient of abuse from some forgetful Vikings. Mention of the idea of walking around the school design was announced in the Pep club meeting of Sept. 24. We printed an editorial on this subject in our Sept. 17 EPIC. It's certainly not cute to scuff the tile. Nor does it show any respect for our school. High school students should be mature enough to accept the idea of traditionalizing the tile on the bridge. If a student hasn't enough spirit to respect the emblem, then he ought to walk under the bridge, because Vikings who do care are going to do something about these inconsiderate individuals. Grow up! -Mike Hover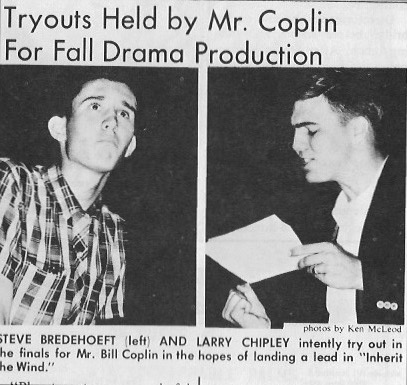 Plans Commence For Homecoming: Homecoming preparations are now being made for the Homecoming game with Topeka West Oct. 29 and the Homecoming dance Oct 30. Linda Ledford headed the first Homecoming committee meeting Sept 27. Committees were established to work on the float. Crowns, dresses, and flowers for the nominees are being investigated. Half-time entertainment is being decided, and invitations have been sent to Sharon Gravino, queen of 1963-1964, and Cathie Ulrich, queen 1964-1965. The football team will nominate senior girls, and the pep club will vote on them.
'El Chismoso' Rivals EPIC: Sorry, this word is not another name for our foreign exchange student. Its definition can be found next Tuesday in the first issue of 'El Chismoso' West's own Spanish newspaper. This newspaper will be published every two weeks by fourth year Spanish students, Jim Biggers, Joe Carter, Cynthia Craig, Cheryl Daily, Harriet Dunn, Kathy Johnston, Connie Kueter, Sandra Sutter, Mike Tolson, Vicki Willoughby, and Trudy Zimmerman. 'El Chismoso', which, translated, means "the tattler" (shades of Addison and Steele), will feature school news, editorials, features, cartoons, social commentary, sports (jai alai and bullfights) and Latin American and Spanish news. Copies of the paper will be sent to East and North Spanish classes, and will be distributed in West Spaniosh classes, too.
West Second At Wichita: The Viking Harriers continued to show their strength by finishing second out of 20 teams at the Wichita North Invitational last Friday, Oct.1. West finished 8,9,11,18, and 33 with Mike Cooper leading the way with a 10:14 followed closely by Woody Surs at 10:14, Bob Anderson at 10:15, Dave Zimmerman at 10:24, and Roger Bruning at 10:41. Carl Herndon and Larry Lindsey finished with times of 11:10 and 11:37. It was estimated that these times would be 20 seconds faster on the cinder track. Twenty teams participated with 140 boys running in A-team competition. Such teams as Wichita East, last year's state champions, SM North, last year's Sunflower League champions, SM East, Wichita North, and Hutchinson. In the varsity competition, it was Wichita East 58, SM WEST 79, SM North 126, Wichita North 173, and SM East 182…
Jim Shorts: Cross Country Supreme Test by Jim Land: Cross country is a grueling, demanding sport. It demands more training, more stamina, more endurance, and more "personal fortitude" than football, basketball or track. Why, then does it receive only a small percentage of the attention and attendance that our football team gets? As of this article West's XC team has scored two first places in as many outings. Both of these meets yielded two perfect scores of fifteen points. Aha! Here is where my column will yield to its first bit of learning. Scoring in cross country is handled as such: first place gets 1 point, second place two points, third place three points, fourth place four points and fifth place five points. Thusly, with basic arithmetic deductions, a score of fifteen is computed. A perfect score of fifteen means that one school takes all of the first five places. This rarity has been achieved twice in a row by the SM West harriers this season. Make it a point to get out and watch the Vikings second and last home meet October 30.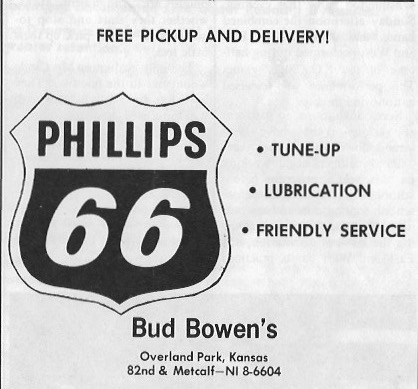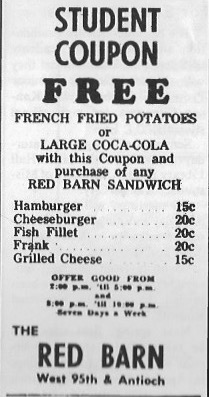 ANNOUNCEMENTS
Save the Date
Shawnee Mission West Vikings Class of 1966
We are turning 70 in 2018 So let's celebrate!
Lake Quivira Yacht Club Saturday, June 16 4:00 pm
Details to follow