Shawnee Mission West High School
Class of 1966
Welcome to the Shawnee Mission West Class of 1966 Website


Patricia Lilliston, "What do you spend your time doing these days?"
Being a retiree makes this stage of life simply the best, in my opinion. Fortunately, my husband Frank Mazon echoes the same sentiment.
We enjoy our 3 active grandchildren, Brecken, Brooks and Sawyer ranging in age from 2 to 4 years. Although the boys and their folks don't live nearby, we are able to visit often to stay current with their ever-changing development and activities.
Since my retirement as a K-8 school administrator, a rewarding experience was to serve six years as a town council member and mayor pro tem for the metro Denver community of Mountain View where I've lived for the past eighteen years.
Although retired from public service, I remain involved in our community as I write a monthly column for The Neighborhood Gazette entitled "Mountain Views." I steward the Little Free Library located at the Town Hall, and regularly attend town hall meetings to either listen or voice my residential opinion.
Frank and I appreciate the floor plan and the yard size of our 1925 bungalow, so we do not anticipate relocation. However, home improvement projects remain inescapable.
This summer, we finally tackled replacing the original oak flooring. Currently, we are adding additional footage to the existing single car garage.
For me, joy sparks from my daily exercise classes at the local rec center, a weekly date night with Frank, the monthly book club discussion and most importantly, frequent visits with my siblings, our two sons and their young families.
Often I reflect that my youth in Overland Park provided the environment and the opportunity that helped establish my contentment today. So I hope peaceful moments and pleasant surprises fill your days too.
Patricia Lilliston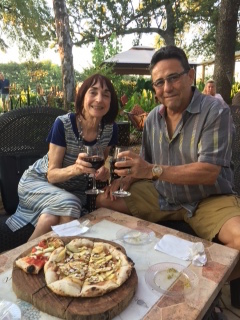 Enjoying a summer evening at the Fortunata Winery, Aubrey, Texas