Shawnee Mission West High School
Class of 1966
Welcome to the Shawnee Mission West Class of 1966 Website


Clyde Stutzman, "What do you spend your time doing these days?"
I am glad Jim Walsh is continuing to share more Classmates of the Week although I admit I do not remember some people all that well. That is the curse of getting older and having a big class. It is nice to hear that others are happily living their lives doing things they enjoy. Here is my story. (Spoiler Alert: it may not be as much a "feel good" saga as other folks' COTW). Gee, did I just say "Saga"? Freudian slip.
If I were to sum up what I am spending my time on these days, I would say it is trying to remain relevant.
I have three sons. Remember the lyrics of the Harry Chapin song, "The Cat's in The Cradle" from December 1974? My sons have grown up just like me. For thirty years, I worked at my careers (racing and business), traveled constantly, and failed to focus on fatherhood. Now they are all successful, busy with their own lives, and I am not terribly relevant to them. Our conversations always end with the promise from Chapin's song, "We'll get together then Dad; we're going to have a good time then". Being a father and a grandfather is more difficult that I thought it would be.
Professionally, my relevance as a business consultant has also declined. What used to be my cutting edge, revolutionary ideas on how to launch and grow a business are now beyond passe. Offering advice to clients now only earns me a sympathetic smile and an offer of a warm shawl, a cup of cocoa and a rocking chair. It does not help that all my clients' businesses rely on close personal contact and have been blasted almost out of existence by COVID. All my years of experience are not relevant in today's high-tech, impersonal business cyberworld.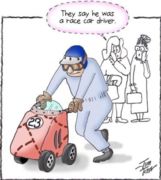 Vintage sports car racing remains my personal passion. Although what was to be my 50th and final season in 2020 was wiped out by COVID and shoulder surgery, I am hoping to wind down my career in 2021. I plan to race at some new tracks and some I have not been to in 40 years. Denver, Topeka, Atlanta, Birmingham, Austin, Tulsa, and Fort Worth are all on my schedule. Friends ask if I am sorry I did not choose a more sedate hobby like golf or fishing where my advancing age would not be an issue. I always say no. It is not that I am addicted to speed; I am simply a competition junkie. I am still relevant in vintage racing as most of our drivers' best and fastest days are behind them. Fortunately, I am still better and faster. Winning is an elixir for me.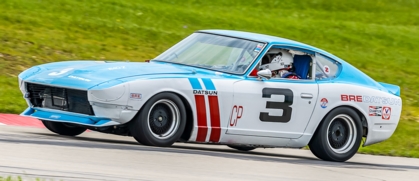 I can simply fall into the seat of my Corvette, but It is becoming harder every day to climb back out. I hope the new C8, flat-crank will be better. Even if it is not, I will still enjoy just sitting in it making Vroom Vroom sounds and listening to the Rolling Stones at 103db.

After two divorces and subsequent dates with 156 different women (yes I kept a record), #157 became my long time "girlfriend". She loves yard work. I hate it. I love to travel. She hates it. I love John Wayne movies. She loves reruns of The West Wing. I love single malt scotch and vintage wines. She loves mojitos. I won't mention politics, but you can guess. The picture is us smiling at a pre-COVID ballet. You can imagine whose idea that was. Still and all, being together at this age is worlds better than being alone.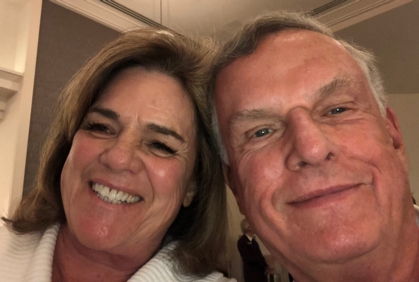 We both are great animal lovers and have rescued a bunch of senior citizen dogs. We have a huge lot with over 100 oak trees that we call Shady Oaks Pet Retirement Home. We had specialized in Shelties but recently brought home a Gerbarian Shepsky. That is a new mixed breed of German Shepherd and Siberian Husky. We got her as a seriously abused puppy. Now that Bella is 60+ pounds of muscle with a teenager's unbridled energy she is the owner of the place. She lets us live here. She also loves the camera.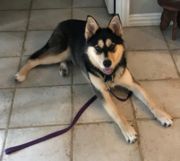 Jim asked for a couple of paragraphs and I realize I have exceeded that and likely overstayed my welcome.
In closing, let me say that if anyone is passing through the Dallas / Fort Worth area, please let me know. We can don our masks, meet outdoors, bump elbows, drink vodka-laced Ensure and do our best to recall the good old days.
After all, friendships be they new or old are always relevant.
I hope y'all stay safe and enjoy a Merry Christmas or Happy Holidays, depending on your theological preference.