Shawnee Mission West High School
Class of 1966
Welcome to the Shawnee Mission West Class of 1966 Website

Steve Carlson, "What do you spend your time doing these days?"
My wife and I just returned from a safari trip to South Africa-Zambia-Zimbabwe-Botswana. This represents one of the major activities in our lives now—traveling. We try to take one or two trips a year and we have many more places we want to visit.
Over the past 4 years I have been the construction organizer and supervisor for a $3M renovation of our 107 y.o. United Methodist church. Both my wife and I are very involved with the ministries of the church including work with our homeless population, new immigrants to the community, and the social activism which is the foundation of our church.
I love to fish and am especially fond of Flathead Lake just north of us here in Montana. I could never convince either of my sons what a wonderful pastime fishing is, but one of my grandsons as become my best fishing buddy.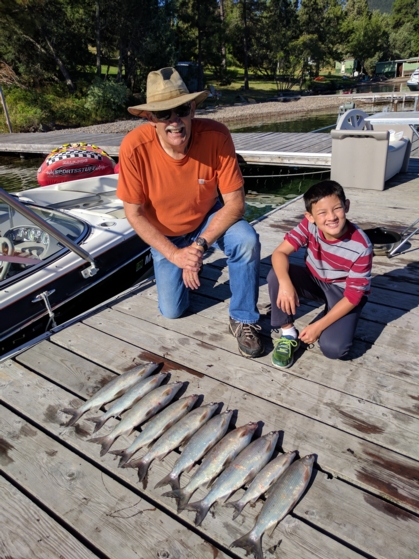 I am also an avid woodworker and built a shop onto our house several years ago. Most of my work lately, has been furnishings for our church remodel but I also dabble in furniture and toys.
We have a very large garden which occupies much of our summer activity. It produces far more than we can eat ourselves though we do put up a lot by canning and freezing. The excess goes to our local Food Bank which loves having the fresh produce.
The balance of our life revels in the blessings of family. Our oldest son's family lives in southern California and he has three boys. The younger son's family is in Kirkland, Washington and he has a daughter. We manage to see each of them at least twice a year in extended stays including a least a week on Flathead Lake and a week or more at Christmas.