Shawnee Mission West High School
Class of 1966
Welcome to the Shawnee Mission West Class of 1966 Website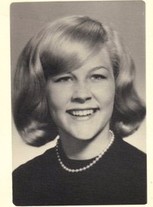 Kolette Hartley (Fabretti-Hill), "What do you spend your time doing these days?
Retired in 2014, I have loved every day of freedom since. Not the least of pleasures is being able to dress in my own extensive wardrobe every day, after being tied to uniforms for most of my careers. And then there is the delight of being able to remove that outfit after lunch every day and replacing with my jammies!! if I desire to.
I thank God every day that I've been blessed with a husband I don't know how I have deserved, whose main mission in life is to cook and shop and keep the kitchen and yard spotless every day. We watch too much tv, take naps and eat more than we should also, I'll wager just as most of you do too. I also volunteer at the hospital and I am a Court Appointed Special Advocate for kids in the foster system.
My 2 children, 4 grandchildren and one great granddaughter also live in Phoenix along with my 95 yr.old father so I am, again, so totally blessed. I spend a lot of time (ashamedly) on Facebook (friend me at https://www.facebook.com/KokoKay) and playing games, my favorite being GrabbyWord is a lot like Words With Friends but better. (Username is EmeraldK )
I love living in So.Arizona, however, so proud to be a Kansan in my soul.