Shawnee Mission West High School
Class of 1966
Welcome to the Shawnee Mission West Class of 1966 Website


Gay Heitman (Lynn Adair), "What do you spend your time doing these days?"
After I lost my husband eleven years ago, I knew that I needed one more adventure in my life. After a lot of research, I moved to the city of Merida on the Yucatan Peninsula. It's beautiful, safe and vibrant. I've lived in Merida for over ten years now. It's very easy to fill my days here. I spend a lot of time working in my garden area. I also spend time with my "requisite ex-pat" rescued pets (2 dogs, 1 cat). I very much enjoy the Yucatan Symphony concerts, the art exhibits, and, of course, the Yucatan Leones baseball games, where "Take Me Out to the Ballgame" is played, in English, for the seventh inning stretch. Only the English-speaking ex-pats in the stadium have a clue what the song is about but everybody sings. It's a hoot! I enjoy having lunch with the many ex-pats I have met here who came here from many parts of the world.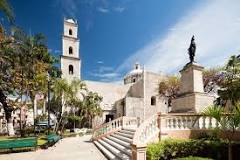 While the city in many areas looks just like suburbia in the US (Home Depot, Sam's Club, Chili's, etc.) and it is technologically progressive, the federal and state governments do not provide any "safety net" for the people who need help. Ex-pats, like myself, volunteer to provide needy citizens, neglected children, the elderly, and others clothing, food, education and enrichment activities. This week, for example, has been full of Halloween Parties for many of the children's shelters. NOTHING in the world makes me feel better or luckier than being able to help needy people here. The people are so appreciative. I'm also on the board of two organizations that support high school and college students from low income families in Progreso, Yucatan. School attendance is only required through Grade 6 and any government assistance for the required uniforms, shoes, supplies, etc. stops at that point. Many of the children are forced to drop out of school after completion of the 6th grade because their hard-working parents cannot afford to buy all the required items. I work with the other board members to identify highly motivated, needy children who would not be able to stay in school and find sponsors for them. We have been very successful supporting the kids needs through high school and, for those who qualify, providing the expenses required for their higher education. The college program currently has twenty-one students attending universities in the area. We have had 15-20 graduates. One of my goals after I moved here was to become fluent in the Spanish language. Unfortunately, I discovered that my German from college keeps cropping up in my Spanish conversations. I can report, however, that my Spanglish continues to improve. Something about old dogs and new tricks comes to mind. . .