Shawnee Mission West High School
Class of 1966
What's New
Posted on: Mar 15, 2020 at 5:46 PM
Working on the master bedroom with new lights, outlets, and fixing plaster walls. The house is getting close to the century mark. This enforced isolation means the time table Might? work. Home Depot and Menards are getting my bar business. Well, the governor was upset with the early partying for St Pats at the bars so today he declared them closed as of Monday night. That screws up our pizza night on Tuesday. Primary election is Tuesday so this also really screws up lots of what would be a normal Illinois election. Hope everyone is keeping their social distance so this flu can die out.
Posted on: Aug 06, 2019 at 12:36 PM
RIP Harry George Schlick-Retired Aurora, Colorado Police Department

Just received news that one of the nicest men in the world has passed.
RIP George Schlick, the world is a sadder place without you. Thank you for the good memories at APD and for the kindness you gave to the world. You will be missed.
Curt was a good friend and as Karen commented, his laugh was contagious. I remember the last reunion Curt attended. He was searching all day for the convertible car he owned & he found who owned it & asked if he could borrow for the night. He came to my house to pick up a group of us for reunion. He wanted me, Ginger Lyon, & Marsha Groom, to ride in the back seat & guys in front. When we arrived to the reunion he made us sit on the top of the seat, and we waved like homecoming queens as arriving. I've never laughed so much hearing his laugh.
I asked Lee McClenaghan who kept in contact with Curt, to ask him to come to 50th but a no show. He will always have a special place in my heart.
Curtis Foland 1948-2019 son of Mary and Jack Foland
No formal notice has been posted, but several dear friends shared loving memories and tributes
Curt was a successful product of the ROTC program at Pitt State. I was there when his mom pinned his bars on his shoulders. (Curt served in Korea)
Yesterday one of my best friends, Charles Curtis Foland, passed away. Tom and I were fortunate to have talked to him a couple weeks ago. Our friendship spans our lifetime from college to now. Curt had an infectious laugh and he was loved by all who knew him. It's hard to believe the world no longer has a Curt Foland in it. I love you Curt and I always will. Be at peace.
It is with a very heavy heart that I share the news of the passing of Curt Foland. I don't use the term "best friend" lightly, but Curt would fall into that category. He was a friend, a fraternity brother and the Best Man at our wedding. Curt called us about two weeks ago to tell us he had lung cancer. He didn't sound good, but I thought we would have him for a while longer. The Universe had other ideas.
Curt was one of the funniest people I've ever known and his laugh was infectious. If Curt laughed, you laughed. You couldn't help it. I laughed a lot at his side. There are more adventures than I could share in a single post.
As you get older, you come to terms with loss. Death is an inevitability that all of us are going to face. But I'd be lying if I said anything other than his death is like a gut punch. It just sucks the wind out of you.Going forward when I think of Curt, and I will think of him often, it will always be with a smile on my face. I can think of no better way to honor his memory. He's going to be missed by many.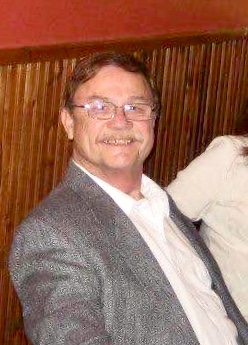 Provided by Karen Lyerla
Celebration of life for Jim Phillips along with old friends Sally Shipley, Coach Shephard, and Terry Herman—September 19, 2019
Posted on: Sep 11, 2019 at 1:28 PM
Another wonderful SMW teacher walks beside us crossing his bridge. True teachers use themselves as bridges over which they invite their students to cross. Having facilitated their crossing, he joyfully encourages suggests and empowers them to create their own bridges.

James A. Phillips-English
1932 - 2019
James A. Phillips James A. Phillips, 87, a former Shawnee Mission high school teacher, died August 29, 2019 at Flowery Branch, Georgia, where he lived. He was predeceased by his mother Estelle Kalomas Phillips in 1995, his father Al in 1998 and his wife Suzanne in 2015. Services will be held Thursday, September 19 at Knox Presbyterian Church, Overland Park, Ks. Cremation. The family requests no flowers and suggests contributions to the Deacons Fund at Knox Presbyterian. Jim was born in Bloomington, Illinois, August 9, 1932, and lived throughout the Midwest until he moved to Overland Park in 1960. He was an Army veteran. He received his teaching degree in 1953 and his Master's Degree in 1956 from Kansas University. He was a lifetime member of the National Education Association. Jim taught English in Shawnee Mission high schools from 1956 to 1994 and in the Evening Division of Rockhurst College from 1960 to 1986. He was a book reviewer for The Kansas City Star, Library Journal, Best Sellers, and various quarterlies. The variety of jobs he had both while teaching and while growing up taught him much about living and about people. One of his pleasures in life was helping his friends solve their computer problems. His interest in photography began with a Polaroid camera in 1954 and progressed through the Nikon single lens reflex era and then into the digital age. Suzanne once remarked that he belonged to the most-photographed poker group in the world. During the last forty years of his life, Jim was Secretary of the Aristotelean and Euclidean Probability and Conceptualization Seminar. Although his singing voice was such that he was the only person in his fraternity permanently excused from song practice, in later years he often sang around the house, even though Suzanne frequently, and justifiably, questioned the accuracy of his lyrics. Son David nurtured his interest in sports and son Carl kindled his interest in woodworking and manual skills. Survivors include his two sons: David E. Phillips and wife Donna of Wichita, Ks, and Carl S. Phillips of Flowery Branch, GA; a brother, Ronald L. Phillips and wife Linda of Ojai, CA; five grandchildren: Michael and wife Emilie, Matthew and wife Toni, Craig, Kellie, and Jonathan and wife Lauren; and 10 great grandchildren.
Published in Kansas City Star on Sep. 8, 2019.
Harry George Schlick
Just received news that one of the nicest men in the world has passed.
RIP George Schlick, the world is a sadder place without you. Thank you for the good memories at APD and for the kindness you gave to the world. You will be missed.
Provided by Tim Jeffery, Norm Savage, Karen Lyerla
Posted on: Jun 17, 2019 at 1:50 AM
From Stacy Stringer Cordell (Jim Stringer's daughter)

Hi friends! Many of you have been asking about my dad, Jim Stringer. Your thoughts and love have been so very appreciated.

In order to keep everyone informed, without telling this very long story more than the 1072 collective times we've already told it, we've started a CaringBridge site. We'll provide updates as they are available. Please feel free to leave any thoughts or well-wishes in the comments on the site. I know Daddy will appreciate them.

Jim's CaringBridge link
CARINGBRIDGE.ORG
Jim | CaringBridge
Or
www.caringbridge.org
Pictures shared by Tod Land, Jim's bro. First looks like Milburn Jr Hi football team (no order) with Jim, Dave Zimmerman, Scott Barnes, Charley Gullet, Joe Hoagland, Don Woods, Doug Killion, and Mike Mahaney. Any others ???

With The help of Doug Jackson and Larry Broockerd we have the 1962 championship undefeated OP lumber team with (1st row l)Kenny Landis, Steve Dennison, Steve Kunz, Doug Jackson, Mike Mahaney, Pat Wise, Ted Wyss. (2nd row l) Jet Peake, ?, Larry Broockerd, Jim Clybourn, Jim Land, Skip Basler, ?. Bk row coaches l Emmett Jackson, ?, Henry Basler, George Dr Landis,w/ Donnie Basler as bat boy. Three pitchers Steve Dennison, Mike Mahaney and Doug Jackson all three had 2 no hit games that summer. OPLumber truly "struck fear into the hearts of opposing teams, coaches and players'
Enjoy:>)
"
Posted on: Mar 18, 2019 at 10:07 AM
Tod Land message. Jim will be cremated but other than that no arrangements have been made. He had one son who lives in Montana and I will be talking with him shortly and am meeting with the funeral home in a bit to get everything rolling. Most likely, we will have a small private service but will get that all worked out and let you know.
Brother Tod Land,
We would likle to thank all of you for your kind words and comments - also for your prayers. Jim will be cremated and he asked that his ashes spread in the ocean - his son James will be doing that. We will be having a celebration of life for him in the near future and will post that time and place soon. Again, thank you all. His son James is with him in this photo.
Congratulations Dave!!!! Are you living in Juneau or perhaps on Douglas Island. As I remember, there are lots of good places to eat but only about 9 miles of road. New management duties??? Be sure to send Paula and I your new info including address, phones, e-mails etc. tell Miss Patricia hello and keep us updated !!!!:>)))