Shawnee Mission West High School
Class of 1966
What's New
Posted on: Jun 17, 2019 at 3:34 AM
Posted on: Jun 17, 2019 at 1:50 AM
From Stacy Stringer Cordell (Jim Stringer's daughter)

Hi friends! Many of you have been asking about my dad, Jim Stringer. Your thoughts and love have been so very appreciated.

In order to keep everyone informed, without telling this very long story more than the 1072 collective times we've already told it, we've started a CaringBridge site. We'll provide updates as they are available. Please feel free to leave any thoughts or well-wishes in the comments on the site. I know Daddy will appreciate them.

Jim's CaringBridge link
CARINGBRIDGE.ORG
Jim | CaringBridge
Or
www.caringbridge.org
Pictures shared by Tod Land, Jim's bro. First looks like Milburn Jr Hi football team (no order) with Jim, Dave Zimmerman, Scott Barnes, Charley Gullet, Joe Hoagland, Don Woods, Doug Killion, and Mike Mahaney. Any others ???

With The help of Doug Jackson and Larry Broockerd we have the 1962 championship undefeated OP lumber team with (1st row l)Kenny Landis, Steve Dennison, Steve Kunz, Doug Jackson, Mike Mahaney, Pat Wise, Ted Wyss. (2nd row l) Jet Peake, ?, Larry Broockerd, Jim Clybourn, Jim Land, Skip Basler, ?. Bk row coaches l Emmett Jackson, ?, Henry Basler, George Dr Landis,w/ Donnie Basler as bat boy. Three pitchers Steve Dennison, Mike Mahaney and Doug Jackson all three had 2 no hit games that summer. OPLumber truly "struck fear into the hearts of opposing teams, coaches and players'
Enjoy:>)
"
Posted on: Mar 18, 2019 at 10:07 AM
Tod Land message. Jim will be cremated but other than that no arrangements have been made. He had one son who lives in Montana and I will be talking with him shortly and am meeting with the funeral home in a bit to get everything rolling. Most likely, we will have a small private service but will get that all worked out and let you know.
Brother Tod Land,
We would likle to thank all of you for your kind words and comments - also for your prayers. Jim will be cremated and he asked that his ashes spread in the ocean - his son James will be doing that. We will be having a celebration of life for him in the near future and will post that time and place soon. Again, thank you all. His son James is with him in this photo.
Congratulations Dave!!!! Are you living in Juneau or perhaps on Douglas Island. As I remember, there are lots of good places to eat but only about 9 miles of road. New management duties??? Be sure to send Paula and I your new info including address, phones, e-mails etc. tell Miss Patricia hello and keep us updated !!!!:>)))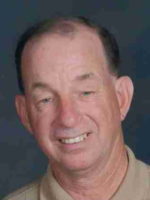 Services
Services will be held at 10:30 a.m., Nov. 10, 2018, at Lenexa United Methodist Church, 9138 Caenen Lake Rd., Lenexa, KS, followed by a luncheon. Private Inurnment at Lenexa Cemetery.

Contributions

In lieu of flowers, donations may be made to Lenexa United Methodist Church, 9138 Cenen Lake Road, Lenexa, KS.
Shared by Jan Koenig Reintjes, Jim Walsh and Karen Lyerla
Kathy's 70th Celebration September, 2018
May prayers and bessings guide you home sweet friend and classmate.
Karen Lyerla
Posted on: Jun 24, 2018 at 12:06 AM
In updating Paul Dennis Miller's Obituary, I am respectfully including a picture and article from the KCStar about Paul's accident. The picture may make some of our classmates uncomfortable in viewing, but I wanted to share with those who choose to visit Paul's In Memory. Thanks to Jim Walsh for researching and finding the KCStar story and picture.
Sorry to share, but we lost Craft Clark May 29, 2018, Tues to an aorta (heart) aneurysm. Don Woods had stopped over by to visit on Tuesday, but nobody was at home. Later his wife, Susan called to share the sad news. There will be a celebration of life at their townhouse CLUBHOUSE in Lenexa, Kansas on Saturday, June 2 from 12 to 4pm. Their address is 8824 Carriage near 87th and Gallery Road (66215). As more information is given, I will post in our In Memory section. Come join us in celebrating Craft's life.
Posted on: Mar 22, 2018 at 5:00 AM
This poem or whatever you want to call it, is for those that have reached that pinnacle or are about to enter that "Twilight Zone" of life.


Seventy


My last day of being young; no Birthday songs will be sung.
Now I'm old and almost dead or is this only in my head?
I am old and flabby and whole lot crabby and I am looking just a little shabby.
These old bones provide me aches and pains but I can still use my brains.

All of my memories and my scars will be added to my memoirs.
Old maybe but I'm not sure; maybe someone can come up with a cure.
From being young we have sprung or was this a slip of my tongue?
No slip but all I hear is; don't fall or might break your hip.

Hey old man do you need a cane or some help; their humor I disdain.
These peacocks they prance and they strut; they forget that I can still kick their butt.
My funny side has been gone for some years and so it appears.
At my age and still at work; is it dedication or is it a quirk?

Seventy! I can't believe; should I be happy or should I grieve?
Not too much that I can do unless science has a tremendous breakthrough.
Hell, I don't care; all I can say is, what is fair is fair at least I still have some of my hair.
Wear and tear on this old boy but yes, I can still find some joy.

Depressed, probably not, I still find wisdom in my every thought.
Some twenty years back some black balloons I got; after all of these years I almost forgot.
So many candles on my cake; to put out the flame it would take a lake.
Who needs electricity when the candles will suffice but I will see that you get the first slice.

Well, old is old and it cannot be controlled and on this idea not everyone is sold.
Ready for the rocking chair, oh not quite, those words are often too trite; do you wanna fight?
Spirit alone can make or break; all of this talk is giving me a headache.
What's the use, there is no sense in becoming a recluse and so what is my excuse.

Anyway, Happy Birthday some will yell but for me I have no time to dwell.
Too much work for me to complete and I had better hurry before I become obsolete!
I had better finish this in a hurry but don't you worry it's only my eyes that are getting blurry.
Much better now but I forgot what I was doing or what I happened to be pursuing.

Never mind, it wasn't fundamental but with this old man you must be gentle.
I am frail and I am old with my teeth full of gold and maybe I am on the threshold.
Nope…you dope, I am not standing on that slippery slope.
I have a long life ahead and no rumors will you spread, because buddy I'm not dead.



Garth Jensen

2018