Shawnee Mission West High School
Class of 1966
In Memory
Kurt LaPlant
This article was from The Salina Journal
Friday, November 7, 2008
Remains found in Vietnam identified
The Pentagon says remains found in South Vietnam have been identified as
those of a Kansas Marine and three others whose helicopter was shot down
in 1968.
The Defense Department said Wednesday that Lance Cpl. Kurt La Plant,
of Lenexa, was aboard a CH-46A helicopter that was downed by enemy
ground fire on June 6, 1968. The helicopter was in the mountains southwest
of Khe Sahn in an attempt to remove members of a Marine unit under attack.
In all, 12 of the 23 on board were killed. All but four of the men who died
were recovered and identified.
A joint U.S. and Vietnamese team investigated from 1993-2005, interviewing
witnesses and surveying the crash site. La Plant's identification tags were found
there in 2006. Additional remains were found during an expedition in 2007.
DNA test and dental samples identified La Plant and Lance Cpl. Luis Palacios,
of Los Angeles. Remains that could not be individually identified are
included in a group that will be buried in the spring in Arlington
National Cemetery near Washington, D.C.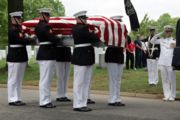 Provided by Karen Lyerla