Shawnee Mission West High School
Class of 1966
In Memory
John Armstrong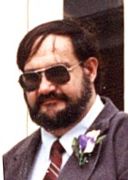 John Marquis Armstrong III, 68, Ottawa, Kansas, passed away Thursday, March 17, 2016, at Olathe Medical Center.
Memorial services are set for 2 p.m., Saturday, April 2, 2016, at Calvary Baptist Church, 925 W. Seventh St., Ottawa. Family plans to meet with friends immediately following the service.
John was born Monday, Dec. 1, 1947, in Kansas City, Missouri, the son of John Marquis "Mark" and Betty (Breibeck) Armstrong, II.
When John was young, he lived in Turner, Kansas, later moving to Shawnee, Kansas. In the late 1960s, he moved to Ottawa, where he made his home until his death.
He graduated from Shawnee Mission West with the class of 1966.
John was united in marriage with Cindy Durbin April 23, 1994, in Ottawa. She survives of the home.
Other survivors include his mother, Betty Armstrong of Ottawa; son, John Matthew Armstrong, Canon City, Colorado; step-daughter, Tabetha Armstrong of Ottawa; sisters, Kathleen Letts and husband Chip of Ann Arbor, Michigan, and Kristeen Scott and husband Lowell of Ottawa; mother-in-law, Wanda Durbin also of Ottawa; and many nieces and nephews.
He was preceded in death by his father, Mark Armstrong, II; and two sons, Anthony and Timothy Armstrong.
John was employed for 25 years as an over-the-road truck driver for T Bones Trucking of Ottawa, Waller Truck Company, American Central Transport, Butler Transport, and Swift Transport all in the Kansas City area, retiring in 2004.
John was a former member of Faith Lutheran Church and was attending Calvary Baptist Church, both of Ottawa. He was a member of the Ottawa Art Guild and Heartland Art Guild of Paola.
He had a God-given artistic ability, which he enjoyed using to sketch horses, cars, aircraft, trucks, and trains.
The family suggests memorial contributions to Ottawa Municipal Airport c/o Dengel & Son Mortuary, 235 S. Hickory St., Ottawa, Kansas 66067. Family and friends are encouraged to post their condolences and memories on John's Tribute Wall at www.dengelmortuary.com
Provided by Karen Lyerla